Divi Restro Menu
DETAILS
REVIEWS
SUPPORT
DOCUMENTATION

Divi Restro Menu plugin will let you create and display your restaurant menu items using two available layouts with pagination and filterable categories.
Using the Divi Restro Menu plugin, a user can easily create attractive and delicious food item menus in no time. No coding or extra effort is required. Its custom post type support for food items and categories, allows a user to make changes to the food items' information easily. Such as price, ingredients, description, and more without going to the page and launching the Divi builder where the layout was used.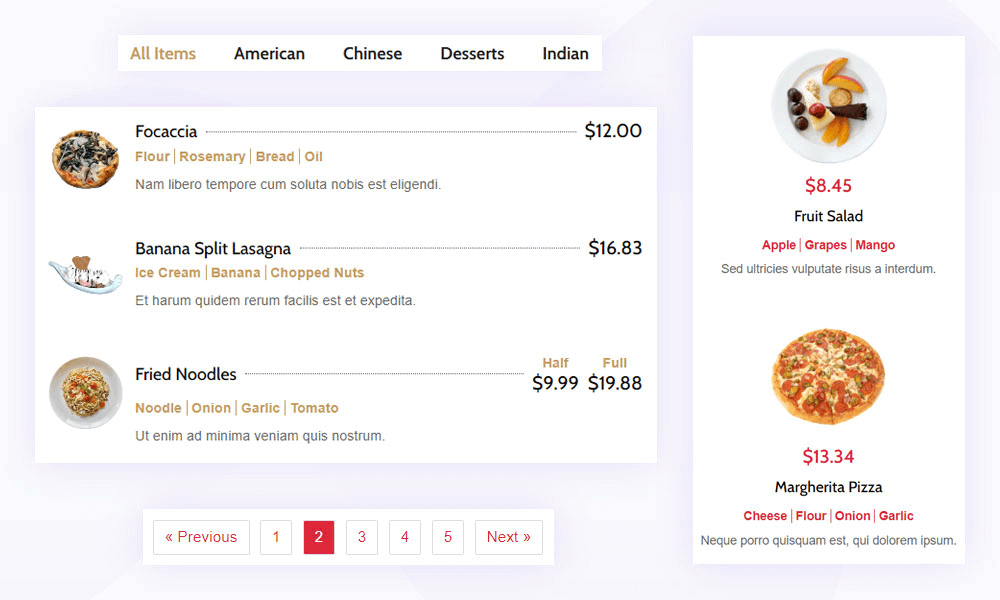 With Divi Restro Menu, you can also create a restaurant menu with filter support. So, your visitors can easily navigate to the different food categories and items you have on the menu. Plus, many other customization options that make a restaurant menu more appealing and informative.
Divi Restro Menu plugin comes with a number of features and functionalities that are essential and helpful in designing a restaurant menu.
Two menu layouts
To give users multiple possibilities in creating a tempting food menu it comes with two beautiful food menu layouts.
It allows users to add thumbnails side by side to the food description.
With this layout, the user can add food items thumbnail above to the description. Gives food menus a much more appealing look.
Custom Post Type
Category filter
With Divi Restro Menu, you can choose to display your menu items with and without a category filter.

Ajax and numbered pagination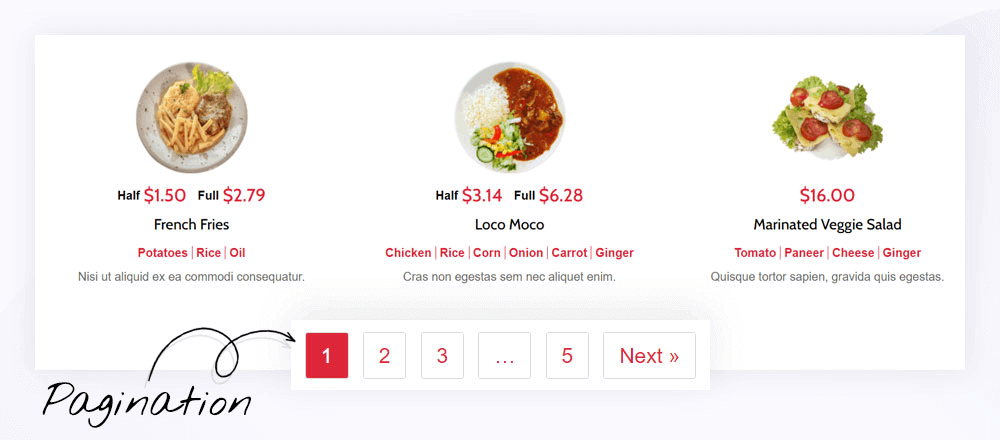 Multiple price options 🆕
Display multiple price for your menu items.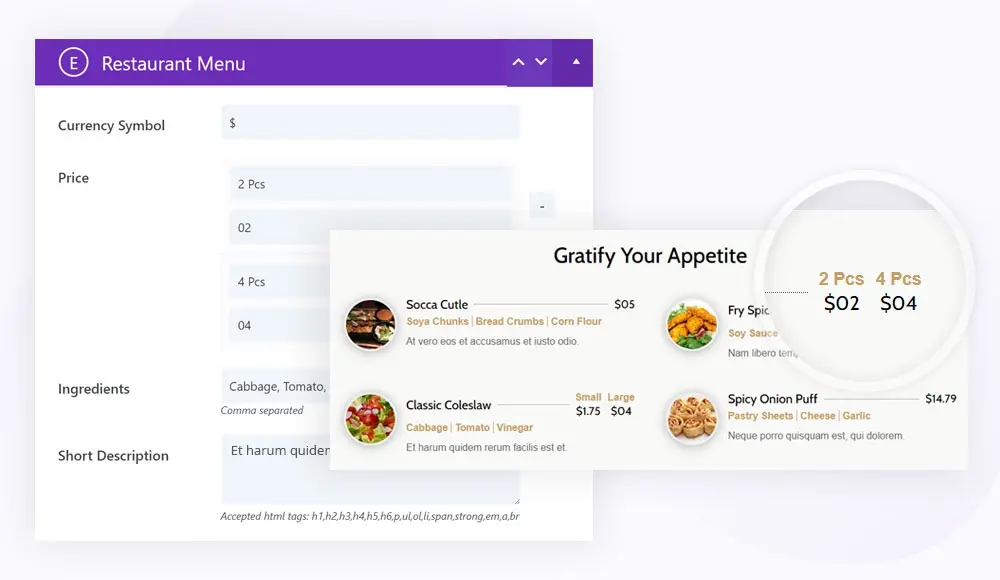 Multiple Columns
Easily Specify Price if Any Currency
Show Ingredients and Description
Show Full and Short Descriptions of Food Items
Add Thumbnails of Food Items
Free pre-built menu page layouts
Use one of the many available menu pages built using the Divi Restro Menu plugin to display your food items. These pre-built pages will help you create a complete list of menu items and are available to download from the demo site.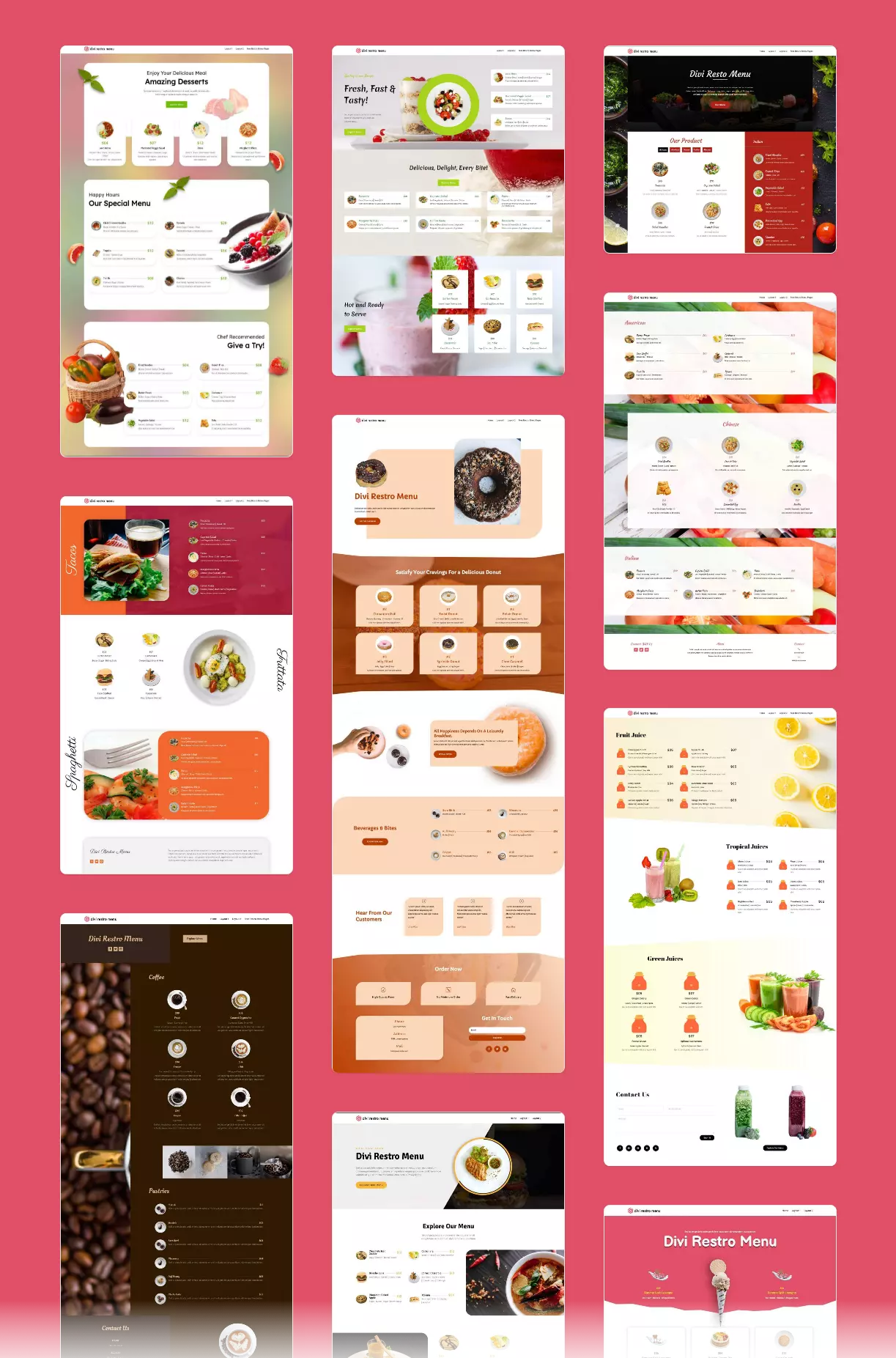 What kind of restaurant menus you can create with Divi Restro Menu plugin?
With this restaurant menu layout plugin, you have a number of possibilities to create food menus for various food ordering and delivery businesses. Such as,
Standard Divi price list
Coffee shop
Ice-cream parlor
Juice shop
Sweet shop
Pizza shop
Fruit and vegetable mart
And much more
Moreover, with this plugin, you're not restricted from using it for restaurants or food businesses only. For instance, if you're running an online tutorial website, then you can use it to showcase the courses you are selling. Or if you run a website that sells artifacts, then you can use this plugin for that purpose too. One plugin, multiple usages.
Why choose Divi Restro Menu
It is an easy to use lightweight solution that will fit most food businesses and let them display their menu items and price list.
It includes custom post types and has two layouts that will allow adding the menu items anywhere on a page using Divi builder.
Includes free premade menu pages customized to fit most of the food business.