Divi Switch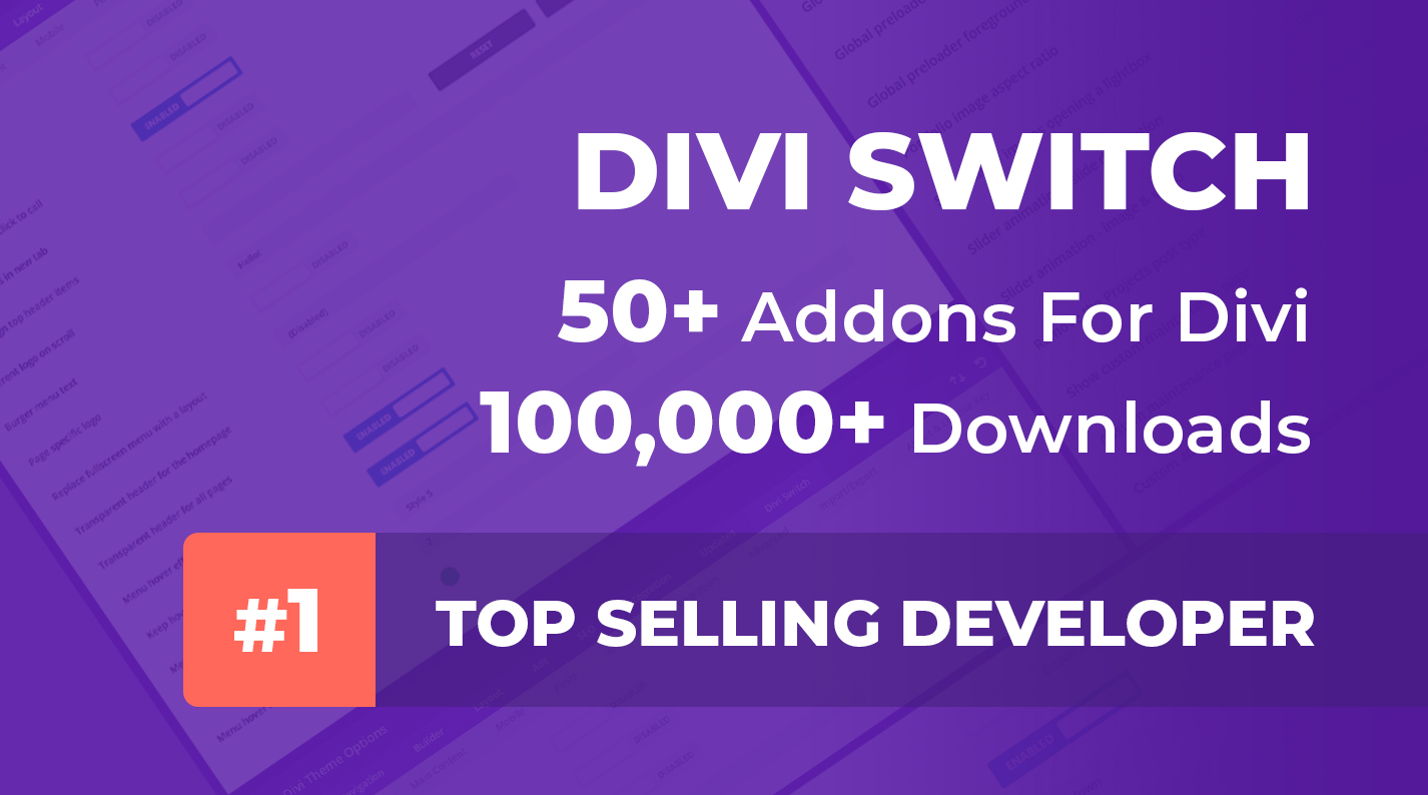 DETAILS
REVIEWS
SUPPORT
DOCUMENTATION
The Most Downloaded Divi Design Toolkit Since 2015
Whether you're a complete newbie or DIY builder looking to simplify design with codeless styling, or a design professional ready to speed up site development, Divi Switch is for you.
Expand Divi's styling options and feature set with the flick of a switch. Give all your websites a completely custom look and feel with toggle controls to transform look and feel.
Make design changes without a line of code
Activate custom 404, coming soon, and maintenance mode pages
Transform your header and footer with the click of a button
Effortless control over mobile and tablet design breakpoints
Built-in navigation menu effects and hover animations
Control if and how comments display
Enhance your blog with advanced controls for Divi Archive and category pages
Choose to insert ad layouts globally to increase sales, and capture more leads
Improve performance and display a sharper logo and icons with SVG uploader
Make library templates into shortcodes that can be used anywhere you can paste a shortcode
Expand The Divi Page Builder With +50 New Switch Customizations
Remove Main Header Underline
Remove the 1px thin hairline used to separate the space between the header and main content without code.
App Style Menu
Use your mobile menu style on desktop, including the full-width header and the burger menu navigation links.
Make Phone Number Click To Call
Turn your phone number into a clickable link that can be used by your visitors to place a call right from the browser.
Burger Menu Text
Improve navigation or grab visitor's attention with custom text that displays before the burger menu on your mobile header.
Center Align Secondary Header Items
Center align the secondary header menu items with a click including phone number, social icons, and the select navigation menu.
Different Logo on Scroll
Clean up your fixed navigation menu by changing the logo's appearance in the header when scrolling.
Open Social Links in New Tab
Open social sites in a new tab when the social icons are clicked to keep users on your site longer
Page-Specific Logo's
Use a different logo on any page from landing pages to e-commerce sites selling multiple products with custom branding.
___________________________
Remove Bullet Points From Footer
Get rid of the bullet points that display next to all the items in the default Divi footer for a cleaner look and feel.
Hide Bottom Footer
Remove the default footer so you can use the Divi Builder to layout a footer with a completely custom style.
Stop The Footer Floating On Empty Pages
Reposition the footer to display at the bottom of your page even if there is little or no content in the body.
Replace Footer Widgets With Layout
Use your own custom or pre-designed layout in place of the Divi footer.
Remove The Dividing Sidebar Line
Remove the thin vertical dividing line between your blog posts and the sidebar menu to create a cleaner look and feel.
Portfolio Image Aspect Ratio
Change the aspect ratios of images in the portfolio to accommodate different image types, like screenshots, video thumbnails, book covers, and more.
Stop Gallery Images Opening In A Lightbox
Make it so the images you place in a gallery no longer open in a lightbox when an image is clicked.
Text Slider Animation
Adds a number of new slide animation options including fly in from left, fly in from right, flip on x-axis, and flip on y-axis.
Image & Video Slider Animations
Alternative slide animations for video and image sliders including fly in from left, fly in from right, flip on x-axis, and flip on y-axis.
Remove The Projects Post Type
Hide the Projects custom post type added by Divi from displaying in the WordPress dashboard menu.
Coming Soon and Maintenance Page
Create and use your own custom maintenance mode or coming soon page in the Divi Page Builder.
Custom 404 page
Use any page as your 404 page and customize it in the Divi Page Builder for more design control.
Custom Mobile and Tablet Breakpoints
Set the exact breakpoints where you want your page layout to change for different screen sizes (ex: four columns become two, two become one, header changes to mobile version).
Take Switch Anywhere Advanced Import/Export
Switch settings can be exported as a standalone plugin so you can add your custom Divi Switch settings to any Divi site.
Mobile Menu Text Change
Change the default "Select Page" text located in the menu dropdown when navigation is set to centered header style.
Collapse Submenu Items For Mobile
Move all your submenu items inside burger menu of its own for mobile devices.
Display Category Title
Set your site to display the category title at the top of category archive pages.
Remove Sidebar
Hide all the sidebars from displaying across in the Post type content on a website.
Add 'Read More' Link Under Posts
Display a 'Read More' link CTA under the post preview text on category and archive pages.
Separator Line Under Posts
Show a horizontal separator line between posts on archive and category pages.
Insert Layout Before or After Main Content
Display a layout before or after main content across all the pages on your site – great for quickly placing ads across an entire site.
Insert Layout Before Post Content
This allows you to easily insert a custom layout before the post content on all your blog posts.
SVG Uploads
Enable the ability to upload and use Scalable Vector Graphics (SVG) for sharper logos, icons, and other images.
Add Comments in Toggle
Put your entire comments section within a toggle that can be set to hide or display by your visitors to help clean up your posts.
Spend Less Time Coding And More Time Creating!
More Options for Divi
With 50+ switches and thousands of combinations, Divi Switch gives more styling options, design tweaks, and features for quickly creating a completely custom look.
Easy, Intuitive Toggle Switch Format
Massively change the appearance and functionality of your website, without ever touching a line of code. Divi Switch expands functionality with the most requested Divi features.
More Options for WordPress
Divi Switch is an upgrade to the built-in customization tools included in Divi. Design custom websites faster with the most powerful, versatile, and feature-rich page builder for WordPress.
CSS-Free Editing
Make changes with the flip a switch. No more copy and paste CSS code customizations and design hacks. Make tricky design transformations even if you're brand new to WordPress.
Save Your Design Team Time
Whether you're a freelancer, front-end designer, or developer, Divi Switch will save you hundreds of hours building client sites. We know… Divi Switch was created by a team of design professionals and is still being used by our agency on just about every site we build.
Make Changes Faster With Import/Export
Export your favorite Divi Switch configurations as a JSON file that can be imported to all your sites for quickly making changes across tens or even hundreds of websites.
Build Your Own Mini Plugin For Client Sites
You can even remove Divi Switch from client websites before delivery. Once you've made changes with Divi Switch, export them as a standalone plugin with its own name and branding.